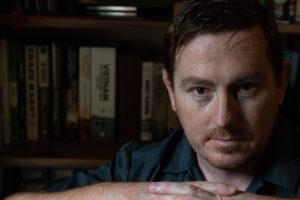 Michael C. Madden is a fiction and non-fiction writer, a photographer and medal mounter. He is also the founder and host of the podcast, Australia Remembers.
Michael's latest publication is The Victoria Cross: Australia Remembers, which was published in April 2018 by Big Sky Publishing. This remarkable coffee-table book was four years in the making, with all profits from the sale of the book raising money for Totally and Permanently Incapacitated Veterans.
Through this book, Michael aimed to photograph all 100 Australian Victoria Cross medals, each of the 96 graves of these men and as many statues and monuments he could, a task which would cover 17 countries. In addition, Mr Madden aimed to interview as many family members of VC recipients as he could. He originally aimed to find 20 families but, in the end, interviewed more than 60. The Victoria Cross: Australia Remembers contains behind-the-scenes stories and images supplied by the families and, in some cases, the VC recipients themselves.
Reviews and media for The Victoria Cross: Australia Remembers:
Above with copies of The Victoria Cross, Australia Remembers: Prince Charles, Prime Minister Malcolm Turnbull, Kevin Sheedy, mike Brady, Major General Gus McLachlan, US Air Force General Paul Selva and Canadian Lieutenant-General Paul Wynnyk.
Buy the book directly from the author and have it personalized and signed! Send Michael a direct email... michael@berwickmilitarymedals.com.au
Connect with Michael C. Madden:
Hindsight Literary Agent: http://www.hindsight.net.au/authors/michael-c-madden/
Facebook: facebook.com/Victoria.Cross.Sequence/